Welcome
Welcome and thank you for the interest in our program! We are excited to share information about our school psychology program, which offers both master of arts/sixth-year and doctor of philosophy options.
We encourage you to review the website in detail. If you have further specific questions thereafter, please feel free to contact the Program Coordinator. Another great resource for questions about what it is like to be a graduate student in our program is to contact our program assistants.
Please note that the school psychology program admits students once per year beginning in the fall. Applications for admission are due by December 1. Further information can be found in the section titled "Future Students".
News & Notes
Congratulations to 4th-Year Doctoral Student, Jesslynn Rocha Neves, on receiving the
2019 Trainers of School Psychologists (TSP)

 
Graduate Student

 

Award!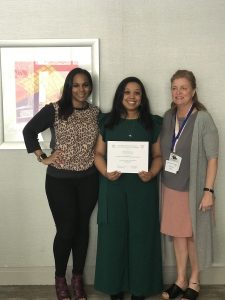 From Left to Right: Dr. Tamika La Salle, Jesslynn Rocha Neves, Dr. Melissa Bray
---
Thomas J. Kehle Scholarship Fund
February 7, 2019 was the one year anniversary of Tom Kehle's death. He dedicated his professional life to school psychology. It would be an honor, in his name, if his scholarship fund reached 25,000 dollars so that it would become an annual scholarship. It has to reach this amount by March 31, 2019 or it will be a one-time scholarship. The fund needs approximately $4,000 more to reach this amount. If you wish to donate, please see the Thomas J. Kehle, Ph.D. Scholarship page: https://uconn.networkforgood.com/causes/12532-the-thomas-j-kehle-phd-memorial-scholarship
---
Welcome to the School Psychology Website
Student Admissions, Outcomes, & Other Data
For detailed information about doctoral student matriculation, time to completion, program costs, internship placements, and licensure, please visit the Student Admissions, Outcomes, & Other Data page of our website. In addition, please download the program handbook for information about program policies and courses of study for both the doctoral and master's/sixth-year programs.
Overview
The Department of Educational Psychology sponsors master of arts/sixth-year and doctor of philosophy programs in school psychology. The graduate programs in school psychology are integrated and organized programs of professional psychology that prepare scientist-practitioners whose primary professional interests involve children, families, and the educational process. The programs have an orientation that emphasizes the integration of theory and research relative to enhancing individual development. The programs also stress an empirically based intervention approach to the practice of school psychology.
Master's/Sixth-Year Program
The master's/sixth-year program is designed to prepare qualified school psychologists to practice in public schools or related educational settings. The program requires a minimum of 75 semester hours of graduate coursework including practica and internship; however, the master's degree is awarded after 30 semester hours of coursework. The sixth-year diploma is awarded after completion of the remaining 36 semester hours of coursework including the practica and internship. The program is designed so that students can complete all master's/sixth-year program requirements in 3 years of full-time graduate study.
Ph.D. Program
The Ph.D. program in school psychology adheres to the scientist-practitioner model of graduate education in psychology. The program is designed to prepare students for the practice of school psychology based on the scientific method, and to promote the commitment to a career of research directed toward the advancement of the science of psychology. The program prepares psychologists who will practice in schools or other educationally related settings that will meet the professional employment demands for:
psychologists in psychoeducational research;
mental health research specialists in child psychology;
psychologists in child treatment agencies, hospitals, and private practice; and
professionals in higher education committed to preparing educators and clinicians in psychoeducational services.
The program requires a minimum of 120 semester hours of coursework beyond the baccalaureate degree including the practica and internship, and 15 hours of dissertation research. It is designed so that students can complete all doctoral program requirements after 5 years of full-time graduate study. The typical student usually takes 5-6 years (5 = median; 6 = average) to complete all program requirements.
Beyond formal coursework, students are encouraged to be involved with faculty research endeavors. Support and encouragement for student publications and presentations at national meetings is provided throughout the student's program. This involvement and encouragement in research activities is complemented by coursework and experiences designed to allow an early integration of theory and practice.